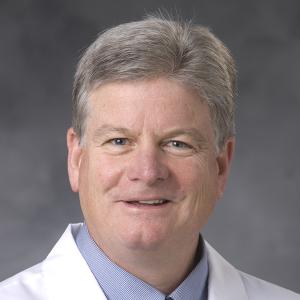 Division Chief, Occupational & Environmental Medicine
Dennis Darcey, MD, MSPH received his medical and public health graduate degrees from the University of North Carolina.  He completed an internship in internal medicine at the University of Virginia and his residency in preventive / occupational and environmental medicine at Duke, joining the faculty in 1990. He currently serves as the Division Chief of Occupational and Environmental Medicine, a position he has held since 2005.  Since 1997, he has been the Medical Director of the Duke Occupational Medicine Clinic and Program Director of the Occupational and Environmental Medicine Residency since 1998.
As an educator, Dr. Darcey, has been a Co-PI on a National Institute of Occupational Safety and Health (NIOSH) Education and Research Center (NIOSH) grant since 1998. This grant funds the North Carolina Occupational Safety and Health Education and Research Center. The Center is comprised of a consortium of three institutions at Duke, UNC Chapel Hill and NC State University that supports faculty and graduate students training in the disciplines of occupational medicine (Duke), occupational health nursing, epidemiology, exposure science, total worker health and continuing education (UNC), and ergonomics and safety (NC state). Total Center grant funding to date exceeds $30,000,000.  Duke graduates occupy leadership positions across the nation in industry, academia, government, and medical center occupational health.  Dr. Darcey's research is directed at the health impact of hazardous exposures in the workplace and environment including asbestos, silica, heavy metals, solvents, pesticides, and environmental pollutants with particular interest in occupational lung disease, solvent neurotoxicity, and heavy metal toxicity. He has served on numerous institutional committees at Duke, and on advisory committees for NIOSH, NIEHS and ACOEM. He has also served as a corporate occupational medical consultant to corporations across the region and nation.