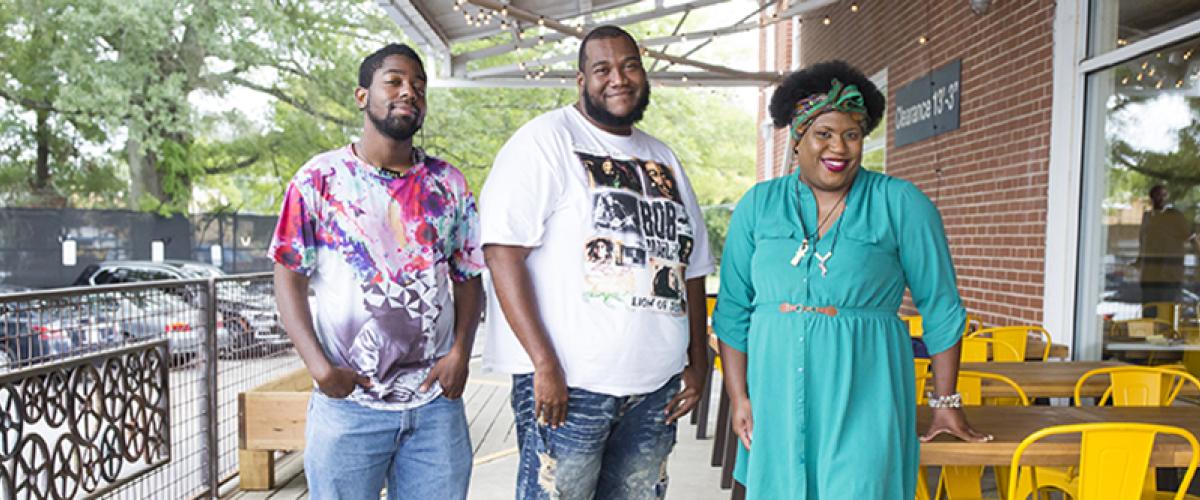 Make an Appointment with one of our LGBTQ+ Friendly Providers
Duke Family Medicine Center
2100 Erwin Road, Durham, NC
Appointments: (919) 684-6721
---
The Duke Family Medicine Center is working to expand its clinical practice to include an LGBTQ+ patient-centered medical home (PCMH), in coordination and cooperation with key Duke University stakeholders and the local LGBTQ+ community, to increase the quality of care experienced by Durham and Duke's LGBTQ+ identified patients.
Several unique aspects of our LGBTQ+ PCMH distinguish us from other programs. Below are some of the ways we are approaching addressing the needs of our LGBTQ+ community:
By using authentic community engagement to bring together key stakeholders and build lasting relationships with the local LGBTQ+ community.
By training clinic providers to provide high quality, knowledgeable LGBTQ+ specific patient care.
By ensuring that all clinic staff are culturally proficient in meeting the needs of LGBTQ+ patients and ensuring that all patients are treated with dignity and respect.
By changing the cultural climate in the clinic to include visual representation of the LGBTQ+ community.
Specific services offered
Specific services offered at the Duke Family Medicine Center include:
Reproductive health and gynecological procedures
Low-risk obstetrical care
Well-child visits
Annual physical exams for adults and seniors
Specialized care for older adults
Visits to home-bound patients
Immunizations
Social work services
Behavioral health care
Anti-coagulation clinic
Pharmacotherapy clinic
Smoking cessation clinic
Endocrinology
Hormone affirming therapy
Pre-exposure prophylaxis (PrEP) therapy
Vasectomies
LGBT health comprises not only unique challenges, but also varying rates for prevalence and incidence of certain diseases. Research suggests that LGBT individuals face health disparities linked to societal stigma, discrimination, and denial of their civil and human rights. Discrimination against LGBT persons has been associated with high rates of psychiatric disorders, substance abuse, and suicide. In addition, subsets of the LGBT population face unique issues. Research suggests that many physicians feel comparatively unprepared to holistically care for the LGBT population and that disparities exist in the health care of these patients. These studies demonstrated that in comparison to their heterosexual counterparts, LGBT patients either received substandard care or were denied care due to their sexual orientation.
Census estimates that there are approximately 250,000 LGBT adults living in North Carolina, representing 3.3% of population. This is considered an underestimation due to fear of disclosure and lack of consistency in asking about sexual orientation and gender identity. The LGBT community of North Carolina faces several disparities including 48% of the population living with a household income below $24,000 and 35% reporting not having enough money for food. Further, 30% of this population reports not having enough money for health care.
There is a need for medical professionals to incorporate LGBTQ+ advocacy and research into their professional development, to not only allow for advancements within medicine, but also to serve as positive role models for more junior LGBTQ+ individuals in medicine.
The Duke Family Medicine LGBTQ+ PCMH is committed to maintaining excellence in our key strategic missions as outlined in our model.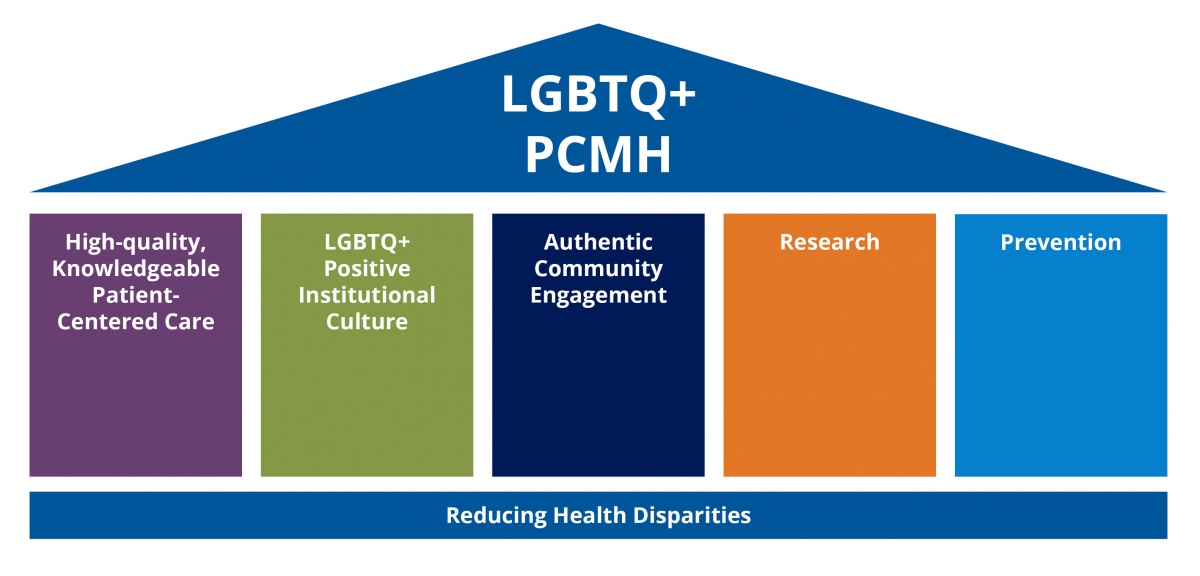 To continue to build this program of distinction, we must rely on the generosity of individuals who share our vision and passion for serving our LGBTQ+ community.  Philanthropic giving will be a driving force behind our success.  The following areas are vital to our growth and are viewed as key strategic elements of program development.
High-quality, Knowledgeable Patient-Centered Care
Consists of exposure, understanding and mastery of health-related topics pertaining to a given individual's role within the health care setting. Basic medical knowledge is the foundation upon which our field is centered and as such is a critical element in the development of cultural competency.
LGBTQ+ Positive Institutional Culture
Consists of the overarching environment that employees and patients are exposed to on a day-to-day basis. This environment includes institutional policy inclusion, grievance procedures, and overall exposure and attitude toward diverse populations.
Authentic Community Engagement
The only way to truly serve a community is by understanding the needs this community has. As such, building partnerships with key community stakeholders and conducting needs assessments are crucial. These interactions in turn will help shape programs and services that will be most useful for our population.
Research
Research is the foundation upon which our profession lies. There is a lack of local research as it relates to the LGBTQ+ community and as such, a huge need to begin to collect this information. True innovation in regards to creating strategies for decreasing health care disparities springs forth from research. We plan to develop a fund to support such projects.
Sponsorship Levels
LGBTQ+ Health Supporter
$1-$99
LGBTQ+ Health Ally
$100-$500
LGBTQ+ Health Champion
$501-$1,000
LGBTQ+ Health Advocate
$1,001-$5,000
LGBTQ+ Health Guardian
$5,001-$10,000