Teaching & Delivering Coordinated Care for the Whole Family
The Division of Family Medicine is home to the family medicine clinical practice and residency program of Duke's Department of Family Medicine and Community Health. Faculty members also provide oversight of major components of the Doctor of Medicine (M.D.) curriculum, including the doctoring course to help train the care providers of the future.
We partner with our colleagues in the divisions of Community Health, Occupational and Environmental Medicine, Physician Assistant Studies and Student Health to provide outstanding training for students in the Duke University School of Medicine and Duke University School of Nursing, as well as other learners. We also home to the Primary Care Sports Medicine Fellowship in collaboration with the Department of Orthopedic Surgery.
Duke Family Medicine Center
The clinical family medicine practice includes medical doctors and advance practice providers who work collaboratively to offer service lines in sports medicine, obstetrics, gynecology, care of adults and children, geriatrics and the LGBTQ+ population. In short, the full spectrum of clinical family medicine. Established more than 30 years ago, Duke's Family Medicine Center serves as the medical home for more than 9,000 patients and has over 28,000 patient visits a year. 
Duke Family Medicine Residency
Our residency program is widely known for its innovative approach to training in population health and community health. Our residents complete a three-year curriculum in the Population Health Improvement through Teamwork (PHIT) Curriculum, and they apply what they learn in PHIT in our clinical practice. Learners and faculty take responsibility not only for outstanding clinical care of individual patients throughout the lifespan, but also for the health of our community, and for all patients who call our practice their medical home.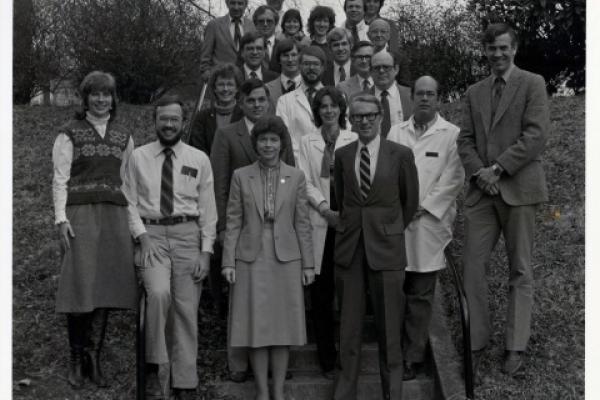 Division History
In the spring of 1985, the fate of the Department of Family Medicine and Community Health was in doubt after William Anlyan, M.D., then-chancellor of health affairs for Duke University, announced that all clinical operations of the department would be phased out, including the family medicine clinical practice and residency program. What followed was a very public struggle between Duke University Medical Center, Durham County General Hospital, family physicians from across the nation, Duke medical students and alumni, and national family medicine organizations. Read More About Division History in a 7-Part Series