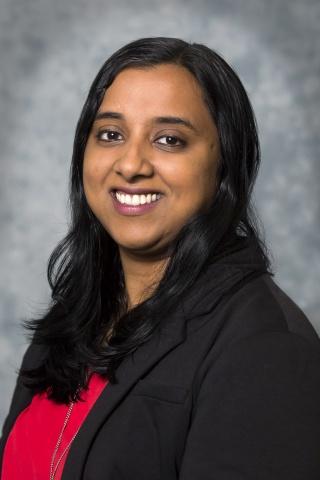 Lavanya Vasudevan, PhD, MPH, assistant professor, earned her Master of Public Health from the Johns Hopkins University Bloomberg School of Public Health and her doctorate in molecular biology and genetics from Cornell University. She is currently a Duke Clinical and Translational Sciences Award KL2 Scholar.
Years at Duke: 6
Active research projects: 6
Where you can see her next: She will present her research at the Annual Conference on Vaccinology Research (ACVR 2019) in Baltimore, MD.
"Even though colleagues in the department come from different research and clinical backgrounds, we all have a shared goal of improving the health of families and communities locally and globally. It is exciting to work in such an environment."
---
When Vasudevan joined the Department of Family Medicine & Community Health in July 2018, she entered with an already extensive research portfolio, having previously worked as a research scholar at the Duke Global Health Institute's Center for Health Policy and Inequalities Research.
She currently has six active projects — three domestic and three international — all of which involve close collaborations with local researchers, organizations, and government agencies.
"My research goal is to reduce unnecessary deaths among women and children," Vasudevan says. "In this context, I am really interested in developing, evaluating, and scaling novel interventions for disease prevention."
Her current project topics range from studying ways to reduce parental hesitancy in the uptake of childhood vaccines in Durham and Tanzania, to implementing technological interventions for improving access to cervical cancer screening for women in Peru. She cherishes the opportunity to travel and interact with people from different countries and cultures.
"I enjoy learning about new cultures, trying to look at problems from other people's perspective, and engaging in joint-problem solving with local partners," Vasudevan says.
Currently as a member of a guidelines development group at the World Health Organization, Vasudevan is supporting the development of global guidelines on the use of digital health technologies for improving maternal and child health.
"The guidelines seek to provide evidence and guidance to governments and stakeholders, globally," she says. "The goal is to not only synthesize the impact of using digital health technologies to improve maternal and child health, but also to uncover potential practice and research gaps where future funding and resources may be directed."
In addition to her research interests, Vasudevan actively mentors Duke undergraduate, graduate, and medical students in research. She also teaches a global digital health class for Duke graduate and undergraduate students. In the next year, she is looking forward to engaging more with learners in the department.