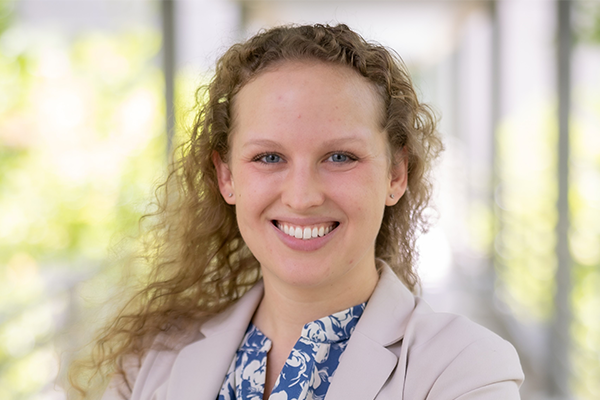 How do you prioritize equitable care for all patients in a system built to serve the majority? It's a question Cara Smith, MD, has asked herself several times, and a new education program in Duke's Department of Family Medicine and Community Health is helping find the answer. Smith was the inaugural fellow of the Health Equity Policy and Primary Care Fellowship. The program was created through a partnership with the Duke Margolis Center for Health Policy.
The fellowship allows for a deeper exploration into the systems responsible for health disparities among vulnerable populations and the ongoing effects of those disparities. "This opportunity gives you the chance to learn both the language of medicine and the language of health policy," Smith said. As a fellow, she led research projects, obtained additional clinical skills, and received consistent mentorship.
"It's designed to equip clinicians to be systematic thinkers and gain critical competencies to develop and enact policies that shape the who, what, when, where, and how of building healthier communities," said Greg Sawin, MD, MPH, vice chair of education and faculty development in the Department of Family Medicine and Community Health.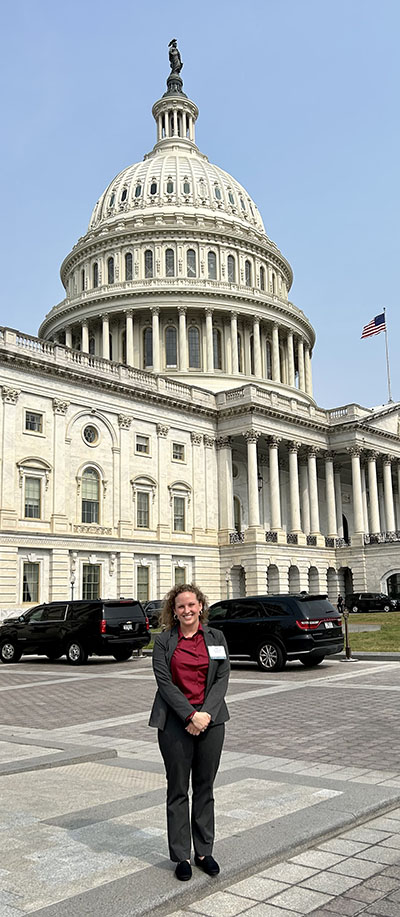 Smith first realized her interest in community health while pursuing an undergraduate degree at the University of Kansas. While there, she partnered with several local organizations working to improve the health of their communities. Smith earned her medical degree from Howard University Medical School in Washington, D.C., and completed residency at Lawrence Family Medicine in Massachusetts.
She then jumped at the chance to apply for the Health Equity Policy and Primary Care Fellowship. The one-year program is a rare opportunity that enables the fellow to spend half their time doing clinical work and the other half conducting equity and policy research. "It's important to understand the issues affecting the patients you see, have relationships with them, and listen to their stories of injustices in the health care system to be able to work in that space and make change," Smith said.
During clinical days, she worked at the Duke Family Medicine Clinic and Duke Regional Hospital, caring for people before, during, and after delivery, and their newborns. "She played a pivotal role in supporting our growing maternal and child health service. In a fast-paced year, Cara has built a strong foundation for a future career as a leader in family medicine," said Brian Antono, MD, MPH, assistant professor in the Department of Family Medicine and Community Health.
Being immersed in a field of experts, and being mentored by them, was a major highlight for Smith. "Working with my two main advisors has been amazing. Andrea Thoumi and Brian Antono have a wealth of knowledge. They've done tons of work in equity and policy and have made this my richest learning experience," she said.
Andrea Thoumi, MPP, MSc, and Antono serve as co-directors of the fellowship. "Cara was an outstanding inaugural fellow. She worked diligently with Duke Margolis colleagues to engage health equity policy issues at the institutional, local, and national levels," Antono said. 
During research focused days, Smith worked with colleagues and experts at the Duke Margolis Center to develop projects. Those included working on policies and strategies to reshape the health care payment model from one based on patient volume to one in which payments would be based on patient health outcomes. "What if you could get paid for keeping people healthy? What if you could get paid for getting their diabetes or blood pressure in control and if they're doing well?" Smith said.
She worked with incoming fellow Gabriela Plasencia, Thoumi, and a team of other experts on a project to increase health insurance enrollment in Latinx communities in North Carolina. Phase II of this project will involve developing policies and training community health workers.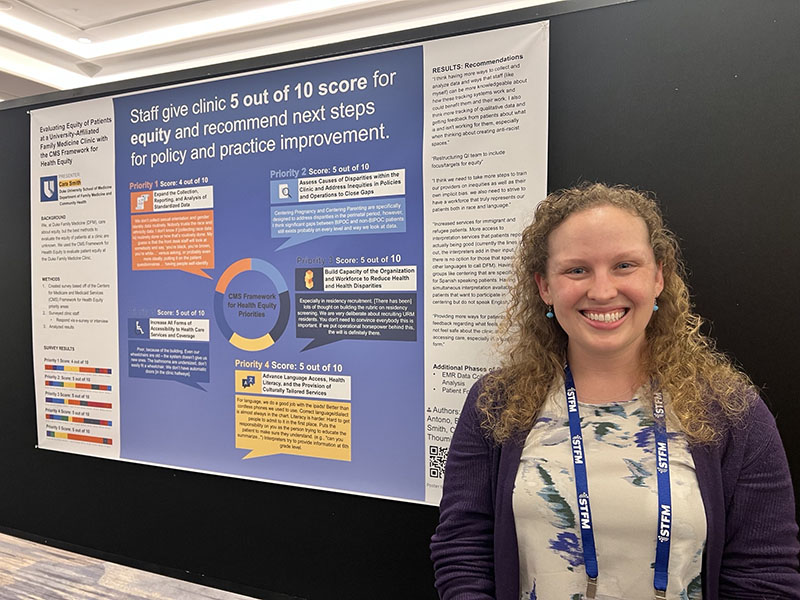 She also completed an equity assessment of patients at the Duke Family Medicine Clinic. The idea was to facilitate conversations about what the clinic is doing well and the areas that still need improvement. Smith looked at clinic data and talked with staff. For the remainder of her fellowship, she hopes to also interview patients. That information will eventually be used to create an action plan of potential steps to improve patient equity.
The fellowship helped expand Smith's thinking and has given her tools that will make her a better doctor. "Being more engaged and involved in policy has helped me take better care of my patients," she said.
Both Thoumi and Antono agree the fellowship is essential for growth. "The collaboration between the Duke-Margolis Center for Health Policy and the Department of Family Medicine and Community Health illustrates how training clinicians in health policy concepts can lead to meaningful changes in practice and policy," Thoumi said.
"The ultimate hallmark of Duke-Margolis' work is the cultivation of the nation's next generation of health care visionaries and leaders," said Mark McClellan, MD, PhD, director of the Duke-Margolis Center for Health Policy.
After she graduates this month, Smith is moving to California with her partner. She plans to work at an academic family medicine residency program and find a similar position where she can continue researching equity in health care and seeing patients. "My biggest priority for wherever I'm working is to be a part of the local community and support the work that's already happening to close certain gaps," she said.