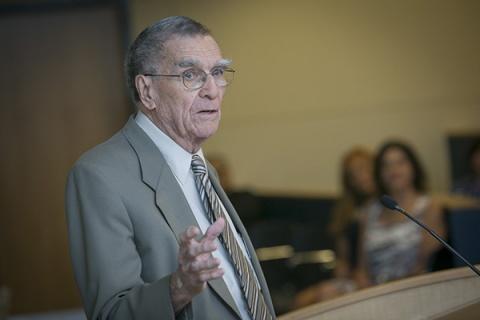 Never believing in retirement, George R. Parkerson, Jr., M.D., MPH, has worked full time at the Duke University School of Medicine for the past 43 years. His work has been instrumental to the Department of Community and Family Medicine as he helped develop some of the first family medicine educational programs at Duke and served as chair of the department from 1985 to 1994. While chair he was instrumental in obtaining Duke University Hospital admission privileges for family doctors and moving the Duke Family Medicine Center from Durham Regional Hospital to the Duke campus.
Currently conducting population health research, Parkerson, professor of community and family medicine, has always been dedicated to advancing family practice and improving community health. His passion for helping people through his profession began at an early age.
Childhood and Military Service
Parkerson was born in 1927 in the coastal town of Norfolk, Va., to one of the oldest families in the state, tracing its roots to 1700s colonial America. Growing up during the Great Depression, he says that his family was fortunate not to suffer any serious financial burden at the time. His father worked as an agent for a life insurance company and Parkerson attended grammar school in Norfolk until his father was transferred to work in Durham, N.C., in 1940.
"My childhood was truly great," Parkerson says. "The school system in Norfolk was really good, we grew up by the ocean, and my father was lucky to have a job when so many others didn't."
After moving to Durham, he began his studies at Durham High School. As a student during World War II, he distinctly remembers the attack on Pearl Harbor and the effect it had on the country.
"There was a stronger sense of patriotism among the boys," Parkerson says. "A lot of the guys lied about their ages so they could join the military early, but I decided to finish high school."  
At the age of 17, Parkerson joined the Navy the day after graduating in June 1945, but was sent home for a period of about six weeks to Atlanta, Ga., where his parents had recently moved. While waiting to be called back into service, the atomic bomb was dropped on Japan. With the war over, he then spent 13 months in the Navy, much of which was on a new destroyer shipping out of Boston.
"I was lucky to be placed there," Parkerson says, "because we were sent down to Cuba to practice war maneuvers, but I was never in any real danger. When I first signed up, the war was still raging in the Pacific, but when I was actually called up the war was over."
Education at Duke
In 1946, within a month of discharge from the Navy, he began his undergraduate studies at Duke University. Despite not having any family role models who were doctors, it did not take him long to realize he wanted to practice medicine.
"I always knew I wanted to go into something to help other people," Parkerson says, "even though at the time I wasn't really aware that I wanted to be a physician."
During his first year at Duke University, he took several introductory pre-med courses. He then enrolled in a dual program that would allow him to complete three years of undergraduate studies at Duke University and then continue on to medical school on the condition of completing a research project and thesis. Through this program he was able to receive both his B.S. and M.D. degrees upon graduating from Duke University School of Medicine in 1953.
After graduating, he spent a year as an internal medicine intern at Duke University Hospital, essentially starting a self-designed training program because there were no set residency programs for general practice at the time.
"By that time I knew I didn't have a specialty that I wanted to go into," Parkerson says. "so I focused on general practice, which would allow me to do anything from major surgery to delivering babies."
After completing his internship, Parkerson moved to Atlanta to begin a residency program at Grady Memorial Hospital that provided 18 months experience rotating through obstetrics-gynecology, pediatrics, general surgery and orthopedics.
Parkerson says he was able to gain a tremendous amount of experience at Grady Hospital. For example, while working in the hospital's infectious disease clinic, he treated several cases of Rocky Mountain spotted fever, an experience that later helped him as a physician in practice.
"The first man I ever put into the hospital had a case of Rocky Mountain spotted fever," Parkerson says. "And when I told the other doctors about it, they laughed because they had never seen a case before. But I knew exactly what it was because I had gone through the special training at Grady."
Private Practice to Duke Department Chair
In 1955, a doctor from Winder, Ga., a small town 50 miles outside of Atlanta, arrived at Grady Hospital looking for additional doctors in his town. Due to the Korean War, there was a scarcity of medical practitioners in the area, and Parkerson decided to begin a private family practice in Winder. Before long he was seeing an average of 35 to 40 patients a day in the office, delivering babies and completing major surgical operations nearly every week, and treating up to 10 patients in the hospital all the time.
"It was an ideal place for me to stay busy with patients," Parkerson says. "There were no specialists in the town, and it was acceptable to do your own surgeries if you had been trained to do them."
After first hiring a bill collector to help handle finances at the clinic, he soon stopped this because he realized that many people in the small town could not afford to pay their medical bills. He saw a wide range of patients from very different socioeconomic backgrounds; many of his patients were very poor and a few were very wealthy.
"When I first started out there we didn't have any money, so I was really intent on collecting my bills from the patients," Parkerson says. "After a year I realized some people just couldn't pay the bills. So if I ever found out that a patient couldn't pay for treatment I just didn't charge them, and I felt good about treating everybody who wanted to see me, from the poorest person to the richest person."
After practicing for 18 years in Winder, Parkerson became aware of the need for an experienced physician to help start a family medicine residency program in Macon, Ga. Although he thoroughly loved his practice in Winder, he felt this was an important opportunity to contribute to education in the newly established specialty of family medicine.
"I had never thought about leaving," Parkerson says. "I had expected to stay in Winder for a long time, but I realized that they needed to have practicing physicians come back and teach. Fortuitously, for the last two years in private practice I had a partner who could continue to care for our patients after I left."
After staying in the Macon program for about a year, Parkerson left to teach at Duke University School of Medicine in 1974, after listening to a talk given by E. Harvey Estes, Jr., M.D., chair of the newly created Department of Community Health Sciences (later renamed Community and Family Medicine). In the 1960s, family medicine residency programs were introduced because more doctors were interested in practicing family medicine as a specialty, and Duke began its program in 1972.
"Duke was one of the first big academic centers to start a three-year family medicine residency program," Parkerson says. "And I thought Duke would never have such a program because when I was in school Duke placed most emphasis on the traditional specialties." 
In 1976 the opportunity arose for a Duke medical school faculty member to receive a master's degree in public health from the University of North Carolina at Chapel Hill. Seeing it as an experience with great potential, Parkerson completed the program in 1977 with his salary paid for the entire year by a grant from the Robert Wood Johnson Foundation. Through the program Parkerson feels he was able to improve much of his medical terminology and gain research skills that are still essential in his current work for Duke.
"It was a really good opportunity for me because coming back to school I had to change my whole vocabulary," Parkerson says. "In practice I had used 'windpipe' when the proper word was 'trachea' and 'foodpipe' instead of 'esophagus.' I never used the proper words in Winder because patients could not understand them, so when I came back up here I had to learn them all over."
From 1979 to 1990, Parkerson contributed to the development and improvement of the family medicine curriculum at Duke, and became chair of the Department of Community and Family Medicine in 1985 after Estes resigned. During his time as chair of the department, he feels that his biggest accomplishment was moving the family medicine clinical practice in 1989 from Durham Regional Hospital to the Duke campus. On July 1, 1991, the family medicine residency program merged with the Pickens Health Center in the Marshall I. Pickens Building at 2100 Erwin Road, creating a unified family practice clinic: the Duke Family Medicine Center.
Current Research and Life Outside of Work
After stepping down as chair in 1994, Parkerson served on the Duke Institutional Review Board for Clinical Investigations (IRB) from 1995 to 2015. Afterward, he moved back to the Department of Community and Family Medicine and began attending medical conferences being held at the Duke Family Medicine Center for faculty and learners.
"After hearing about population health at a lot of these conferences," he says, "I began to wonder what exactly it was and how you could measure it. With research I had always been interested in measuring things, so I got interested in trying to define population health and how you could measure it with self-report questionnaires."
Parkerson then began a population health research project through a partnership with Lincoln Community Health Center's Chief Medical Officer Howard Eisenson, M.D. This partnership recently received the Population Health Improvement Award from the Duke Clinical & Translational Science Institute Community Engagement Core, through which they received a grant for them to test two population health tools at Lincoln.
His research at Lincoln has developed the Duke Population Health Profile (Duke-PH), a self-report measure of population health based on social determinants and illness determinants.
"While at first we were looking at social determinants that were typical for a population health analysis," Parkerson says, "we realized that from a doctor's standpoint we also needed to look closely at factors related directly to illness. We ended up developing a survey with 15 items, about half of which measure social determinants and the other half, illness determinants."
While working on this research during the past year, he has thoroughly enjoyed the experience because it has allowed him to have more patient interaction than he had during his time as chair of the department and serving on the IRB. Additionally, he has learned a lot about the role of a study coordinator because he has personally collected and digitized all the data.
"It's been a great experience for me for over a year now," he said, "because it puts me back interacting with patients even though I'm not treating them, and I've enjoyed listening to patients' stories again."
Although he is now in his late 80s, Parkerson never once thought about retiring. He enjoys his work and genuinely does not believe in either stress or retirement. Also, he never believed in death until his wife of 57 years, Mary, passed away 11 years ago.
Outside of work, Parkerson enjoys spending time with his four children and six grandchildren and appreciating art. His eldest daughter lives with him in Durham, and he has two other daughters who live in Raleigh and Winston-Salem, and a son who lives in Houston. He has always been interested in art and took a course in art school before becoming interested in medicine. In his free time he wishes he had more time to do artwork, but is still grateful to be working at a job he loves.
"All I remember my father talking about was his wanting to retire," he says. "I declared I never wanted to do that: to stop working at 60 and live for 30 or so more years. I enjoy working."
---
Natalie Briggs is the communications intern for Duke Community & Family Medicine. She is a junior at UNC-Chapel Hill, majoring in journalism.