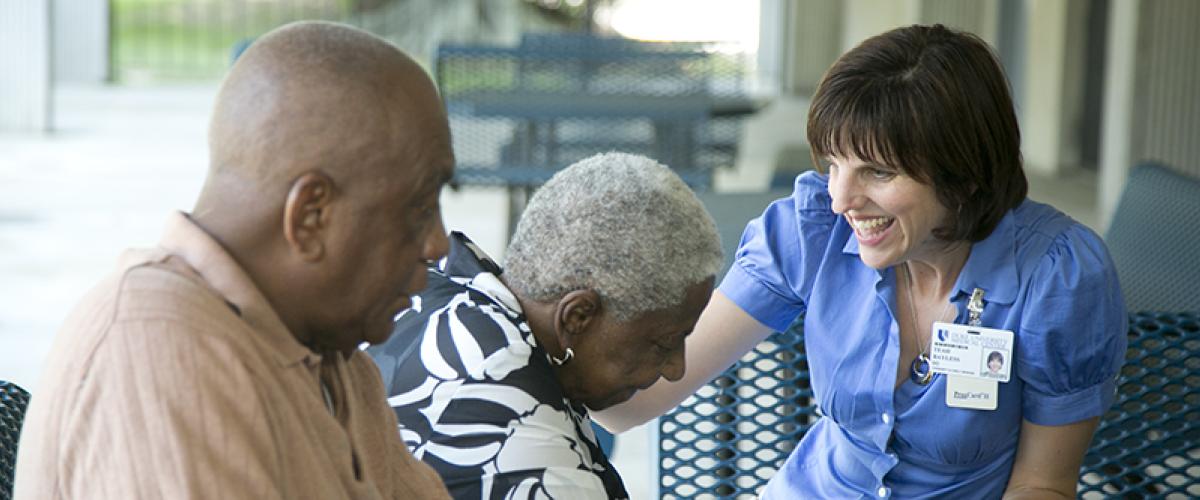 Growing older does not have to be a time filled with uncertainty, illness or worry. It can be a productive, active, healthy period of life with the right support and resources.
The Division of Community Health's Just for Us program helps Durham's older adults maintain their health in the safety of their homes when barriers to care preclude regular medical visits in the traditional office setting.
The goal of Just for Us is to maintain health and keep individuals safely in their communities independently for as long as their medical conditions and functionality allow. By working with patients' primary care provider and established health care team, our clients have access to quality coordinated care in the home with the goal of improving quality of life by ensuring access to routine primary care services.
---
Bringing good health care home
Just for Us began as a collaborative effort to serve many of Durham's low-income seniors who were living with chronic debilitating health problems such as hypertension, diabetes, and heart conditions and were unable to access regular primary care services. Through the inter-agency partnership that formed the basis of the Just for Us program, low-income seniors in Durham gained access to the consistent care they needed, reducing unnecessary emergency department visits and hospitalizations, and improving health outcomes.
Just for Us continues to offer in-home medical services to Durham's seniors and adults with disabilities, living in Durham's public subsidized housing facilities who have barriers to routine primary care services in the traditional office setting. Just for Us also serves a small number of clients in private homes. The Just for Us team includes a medical doctor, advance practice providers, a social worker, and an occupational therapist.
Just for Us is a collaboration of Duke Division of Community Health and Lincoln Community Health Center. Patients are enrolled as Lincoln patients and billed via Lincoln Community Health Center through Medicare, Medicaid or other insurance. Patients may also pay for services based on Lincoln's sliding scale fee system.
Primary care services and more
Just for Us provides patients with:
consistent monitoring and treatment of chronic medical conditions
treatment of simple acute issues that can be treated at home
patient health education
occupational therapy assessments
case management
Once enrolled, we can provide annual Medicare wellness exams, and focused routine chronic disease medical exams, order lab work, make referrals to specialists, order medications, and provide certain immunizations, all in the comfort and safety of the patient's home. We can order tests such as colonoscopies, mammograms, DEXA scans and other studies required for health maintenance. We can also assist with transportation and social service needs.On average, our patients are seen every eight weeks, with a range of six to 12 weeks, depending on health status and current health needs. Patients are expected to continue their relationship with their primary care provider, at a minimum of once per year for chronic care and for acute needs that cannot be addressed in the home.
Minimum criteria include:
Frail elderly or homebound adult with disability
Have barriers to routine medical care
Interested clients, providers, social workers, caregivers, or others can contact the Just For Us office to learn more about the program or inquire about enrollment. If the patient meets criteria and is in the service area, the patient's primary care provider will be contacted by Just for Us staff to ensure services are coordinated and appropriate. In some cases, providers outside the Duke network will need to have a signed medical information release form.
Partners: