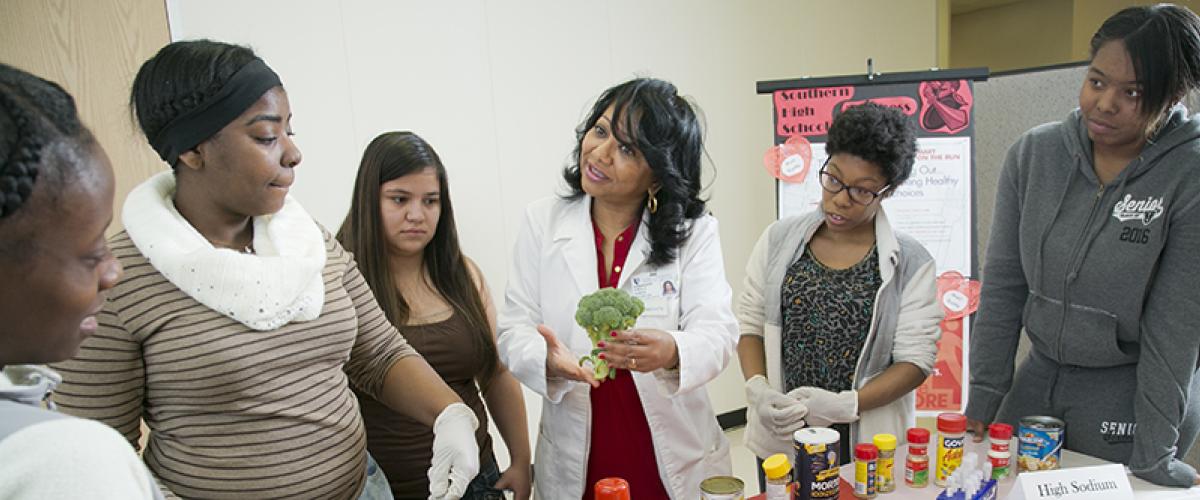 The Division of Community Health operates a school-based wellness center at Southern High School that offers services including care for ill students, health screenings, physicals, and personal consultations.
The goals of the Southern High School Wellness Center are to:
increase student access to primary care
respond to immediate health needs
preempt adverse health and educational outcomes, including student absences from school, unnecessary use of the emergency department, missed parental work hours, and inadequate care.
School-based clinics provide urgent as well as ongoing care for chronic conditions. They also offer a relationship that children often lack – a continuing relationship with a health care provider.
The wellness center gives children access to affordable medical and mental health services during convenient school hours. For students who suffer from chronic illnesses, managing their care and learning self-care skills can make an important difference in their overall health and quality of life.
Any student enrolled at a public school in Durham can receive services at the school-based clinic. If you have a primary care provider, the center will communicate with them to coordinate care. The clinic at Southern High School is open during school hours. Enrollees should seek care with their primary care physician when the center is closed for school vacations, weekends and school holidays.
---
Services
screening and exams for pre-kindergarten students, sports and camp physicals and pre-employment exams
medical care for chronic health problems, such as asthma or diabetes
diagnosis of acute illnesses such as colds, fevers and rashes
screening exams to check vision and hearing
nutrition counseling
on-site counseling to evaluate and treat emotional health needs with referrals to clinic-based or community providers if needed
after hours care available evenings, weekends and school holidays at Duke Family Medicine
after hours coverage available through Duke Family Medicine during the school year
referrals to specialists for injuries or illnesses that require additional consultation
Convenient, easy steps to begin services
Students receive care at the wellness center once their parent or guardian completes a registration packet. Once enrolled, a student can be seen any time the center is open. The wellness center will file any insurance claims for students whose families have insurance. A sliding fee scale is available for families without insurance. Staff can assist parents/guardians in completing forms for reduced care.
A dedicated staff that understands health and young people
The wellness center is staffed by a physician assistant, nursing assistant, supervising physician and office manager. While most care can be handled in the clinic, staff can also arrange appointments with outside medical specialists as needed. Parents or guardians are encouraged to visit the center.
Partners