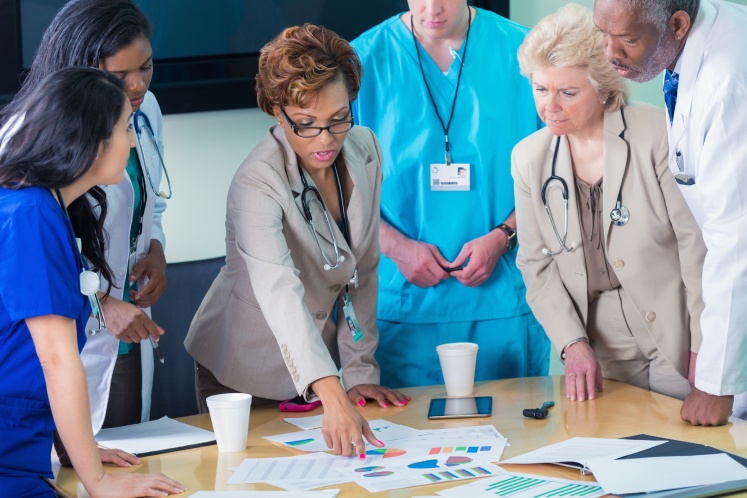 The Certificate in Health Care Transformation is a year-long program for health care professionals who have a health care transformation idea that they would like to improve or refine. The goal of the certificate program is to provide professionals in the health care sector (e.g., clinicians, health care administrators, faculty, staff, trainees) with the skills needed to develop and lead health care transformation and improve health within their communities and practice settings.
Through the Certificate in Health Care Transformation, participants, working with expert faculty and industry health care leaders, will learn how to successfully engage within their stakeholder communities, organizations and practice settings by:
Utilizing enhanced leadership and management skills

Applying quality improvement techniques and new models of interdisciplinary and multi-sectoral collaboration

Incorporating population health improvement approaches

Working collaboratively to address  social determinants of health
Who should apply?
The Certificate in Health Care Transformation welcomes health care professionals (both clinical and non-clinical) and graduate/post-graduate trainees from a wide variety of disciplines and sectors, including but not limited to:
Health care administration
Health care insurance
Health care policy
Health and human services
Medicine
Nursing
Pharmaceutical Industry
Pharmacy
Public Health
Social Work
Important Dates for Participants 
Applications open: Now
Applications due: March 15
Applicants notified of status: April 1
Program activities begin: May 1
Program activities ends: April of following year
Application
Interested individuals must submit a CV, letter of recommendation from someone who can address the applicant's leadership potential, a personal essay, and a project proposal.
What is Health Care Transformation?
The healthcare system is experiencing unparalleled transformation. Increasingly, volume matters less, and patient outcomes and value matter more. Convenience is prime, and cost is scrutinized more. It is a new health care environment. Health care transformation can be viewed as creating health value by improving health outcomes, access to health services, and the way health care is delivered in order to achieve population health improvement. Some core elements of health care transformation can include: shift from health care to well care, alignment of incentives, connectivity among caregivers and patients, enhancement of provider and patient experience, strategies addressing social determinants of health, leadership assessment and development, enhanced interprofessional collaboration, innovative business plans and models, and meaningful metrics and evaluation.
Characteristics of transformed health care delivery systems, identified by the Centers for Medicare and Medicaid Services (CMS), include:
Providers across the care continuum participate in integrated or virtually integrated delivery models
Care is coordinated across all providers and settings
High level of patient engagement and quantifiable results on patient experience
Providers leverage the use of health information technology to improve quality
Providers perform at the top of their license and board certification
Population health measures are integrated into the delivery system
Data are used to drive health system processes
Primary care physicians and PAs interested in a more immersive two-year fellowship may be interested in applying for the Primary Care Transformation Fellowship.