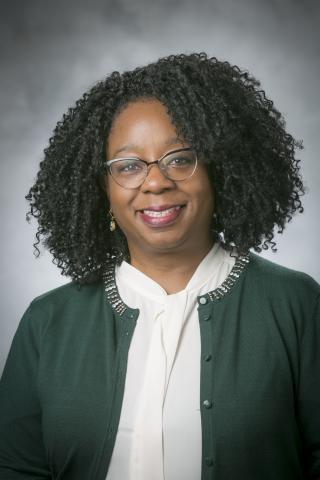 Duke University has been awarded a Eugene Washington PCORI Engagement Award to study the health concerns most important to the local Black community, particularly as they relate to COVID-19.
Nadine Barrett, Ph.D., assistant professor of family medicine and community health, will lead the community-engaged project "Race and COVID-19: Outcomes that Matter to the Black Community." Barrett is the associate director of equity and community and stakeholder strategy at Duke CTSI and the associate director of community and stakeholder strategy at Duke Cancer Institute.
Duke project collaborators are Kimberly Johnson, M.D., professor of medicine; Bryan Batch, M.D., MHS, associate professor of medicine; and Schenita Randolph, Ph.D., Duke University School of Nursing. A collaborator from N.C. Central University is Seronda Robinson, Ph.D., and community collaborators from Durham's Community Health Coalition are Darius Russell, PharmD, and Elaine Hart-Brothers, M.D.
"Our goal is to build community and academic health partnerships for research and collaborations based on what we learn from the Black community," Barrett says. The project will identify research questions—shaped by beliefs, values and preferences—that address patient-centered outcomes most important to Black Americans.
The award from Patient-Centered Outcomes Research Institute (PCORI) is named for Duke Health's Chancellor for Health Affairs A. Eugene Washington, M.D., MPH, M.Sc., who served as the first chair of PCORI's Board of Governors. The Eugene Washington PCORI Engagement Award program is intended to bring more patients, caregivers, clinicians and other health care stakeholders into the research process.
Through town halls, PCORI training workshops and focus groups, Barrett's project team will convene its longstanding community partners—including patients, caregivers, community-based organizations, faith and civic organizations, and beauty industry leaders—to co-create a network of community members and academicians trained in PCORI research methods and community-engaged research.
In addition, given challenges the Black community experiences in receiving trustworthy, accurate and timely information related to COVID-19, the network will establish guidelines and processes for disseminating relevant COVID-19 health information, PCORI outcomes and priorities to the broader community.