Through the Duke Primary Care Transformation Fellowship, participants will learn how to successfully engage within their communities and community-based practice settings to:
apply quality improvement techniques and new models of interdisciplinary team practice,
address chronic disease management,
work collaboratively to address the social determinants of health, 
incorporate the meaningful use of health information technology to improve population health, and

increase justice and equity in your communities and practice.
Practices will benefit from the application of fellows' learnings and from a primary care transformation project that will help the practice deliver more efficient, equitable, cost-effective, and high-quality care to its patients.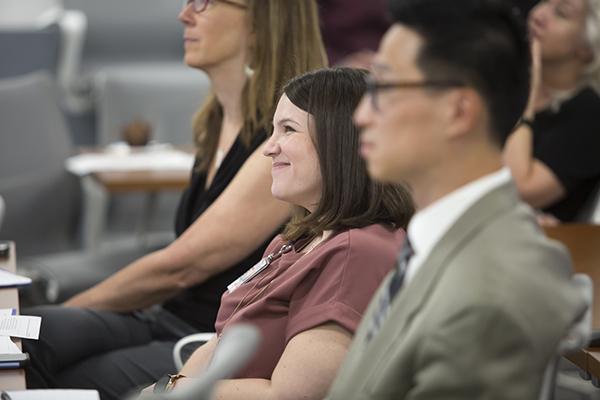 Learn About Current Fellows
Reads bios of current fellows in the Primary Care Transformation Fellowship. Fellows also share about their experience in the fellowship through blog posts.
"I felt like I had a lot to learn going into this fellowship. I am already feeling more engrained in the practice and understand my potential to help. I'm starting to build confidence in my transformation into more leadership roles and am feeling very supported in those positions."

— Maribeth Kuntz, PA-C, Fellow Alumna
---
Fellowship Requirements
NOTE: All fellowship activities will take place virtually due to COVID until further notice.
Fellows must make a 24-month commitment to participate in the fellowship from July 1 of Year 1 through June 30 of Year 2.
Fellows must work in the United States during the fellowship, but are not required to attend fellowship components in-person. All fellowship courses and seminars will be offered with a virtual option.
With approval from their practice, fellows are expected to dedicate roughly 25% of their time (approximately 10 hours per week) to the fellowship.
In addition to the coursework, fellows must participate in a regular seminar series (e.g. 1-2x/per month) and meet periodically with their assigned mentors.
Fellows must also attend a meeting of all HRSA grantees in August of Year 2 (format may be virtual or in-person).  

Fellows must write a blog post about their experience during Year 2.
Curriculum
Coursework
Fellows will complete a Primary Care Transformation Certificate program associated with Duke University School of Medicine's Master of Health Sciences in Clinical Leadership (MHS-CL) program. This certificate blends theory with direct practice and application and hones leadership and management skills like teambuilding, communication and creative problem solving. 
Timeline: Fellows will complete one course per semester, Summer Year 1 through Summer Year 2.
Core Courses: Certificate program courses include Community Engaged Approaches to Health Improvement; Population Health Management Approaches; Health Care Operations: Perspectives for Continuous Improvement; and Management, Leadership, and Team Development. Read course descriptions.

Upon completion of the courses, fellows will be awarded a Primary Care Transformation Certificate by the Department of Family Medicine and Community Health and receive a Duke academic transcript indicating all of the MHS-CL courses taken. Upon completion of the fellowship program, graduates have the option to apply to the degree program and complete the remainder of the MHS-CL requirements to earn the master's degree.
Coursework Schedule
| | | |
| --- | --- | --- |
| Term/Year | Course | Class Format |
| Summer Year 1 | CLP 217: Community Engaged Approaches to Health Improvement (3 Credits) | Kickoff week at start of semester with 2-3 classes over 2-3 days. Remaining classes held every 1-2 weeks, typically 2-hour sessions, conducted via video conference. Once COVID restrictions allow,  the option to attend class in-person will resume. Regular class meeting times are established by instructor and students prior to first class. |
| Fall Year 1 | CLP 214: Population Health Management Approaches (3 credits) | Same as above. |
| Spring Year 1 | CLP 215: Health Care Operations: Perspectives for Continuous Improvement (3 Credits) | Same as above. |
| Summer Year 2 | CLP: 201: Management, Leadership, and Team Development (2 Credits) | Same as above. |
Quality Improvement Training
Through partnership with Duke Primary Care, fellows will participate in two trainings run by Duke Primary Care. These workshops are designed to help leaders and front-line staff who are conducting QI work learn a framework for performance/process improvement that does not require a top-down leadership structure. The purpose is to give fellows structured tools and processes that they can apply toward their transformation projects.
Timeline: One day per month for three months, in the fall of Year 1.
Transformation Project
All fellows will be required to carry out a mentored health care transformation project in their practice site. The transformation project is designed to be a fluid process where fellows work with their mentor(s) to design, execute, and evaluate a project that fulfills the interests and goals of each fellow. Expectations will be commiserate with time fellows are allowed to perform the tasks. Projects must:
address an issue identified to be of importance by clinical site leadership;
utilize data analysis, stakeholder engagement and teamwork, and leadership skills; and
result, at a minimum, in a set of lessons learned (since we know that not all transformation efforts result in anticipated changes), and preferably in practice change or a platform for practice change.
More About the Project
Timeline: Project definition and planning, including developing an evaluation and monitoring plan, will begin Fall Year 1. Project implementation will begin Spring Year 2 and continue through the remainder of the fellowship period.
Mentor: Each fellow will have a mentor team that provides both the substantive and technical expertise needed for the fellow's specific project. The mentorship team will be determined by the fellow in conjunction with the fellowship director.
Evaluation: All projects will include evaluation of processes and outcomes, including use of relevant standardized quality measures, such as the Uniform Data Systems for Health Centers or the CMS Clinical Quality Measures for EHR Incentive Programs. Evaluation design will be tailored to the project and the practice site (e.g., using data already collected at the practice site when those can provide valid and reliable metrics). In addition to their mentorship team, fellows will be supported by Department of Family Medicine and Community Health faculty and staff in designing, planning and carrying out evaluation activities.
Fellowship Seminar Series
A series of seminars will be supported by assigned mentors, Department of Family Medicine and Community Health faculty and staff, as well as experts from across Duke and beyond. The seminars are created specifically for fellows to learn methods and strategies relevant to designing and implementing their transformation project.
Timeline: 90 minute sessions, 1-2 times per month throughout Year 1, beginning July of Year 1.
Cost
The fellowship will cover the following costs for each participant:
Tuition for coursework and training associated with the fellowship. However, Duke employees are strongly encouraged to take advantage of Duke's tuition reimbursement benefit.

To help practices offset the cost of clinicians spending 25% of their time in the fellowship, the fellowship has funds available in the amount of $20,000/year for physicians and $12,000/year for PAs. Fellows should negotiate with their supporting practice strategies to fund the remaining portion of fellowship time.

Up to $1,000 to cover costs associated with the transformation project (e.g. survey administration and incentives for participants if conducting a needs assessment)
Travel support to attend the grantee meeting in Washington, DC, in the fall of Year 2 (if conference is in-person).