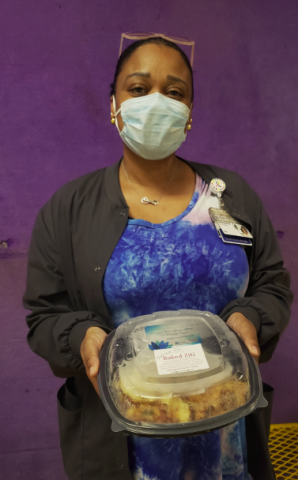 The Duke-Johnson & Johnson Nurse Leadership Program recently partnered with the Durham-based Indulge Catering company to deliver boxed dinners to Duke Health nurses working at Wheels Fun Park in Durham, providing COVID-19 vaccinations to local community members.
On May 6, 2021, Jacqueline White & Queen Precious-Jewel, owners of Indulge Catering, LLC, traveled to Wheels Fun Park with their optimistic smiles and excellent service to deliver delicious, healthful boxed dinners to members of Duke Health. The pair delivered 25 food boxes each week for three consecutive weeks to nursing staff.
Duke-J&J Nurse Leadership Program leaders used some funds that were saved due to the cancellation of in-person conferences to support COVID-19 response efforts, and agreed that a great way to do that was to provide healthful prepared meals to support and thank frontline nurses for their dedication, hard work and personal sacrifices, as well as their genuine love of what they do every day. They work long shifts in local clinics and other sites, providing vaccinations and other needed healthcare services to countless people in the community.
This small but meaningful contribution to the well-being of our dedicated healthcare providers who sometimes risk their own lives to help others, clearly aligns with the core values of the Duke-J&J Nurse Leadership Program and reaffirms the vital importance of coming together to be supportive in times of crisis.