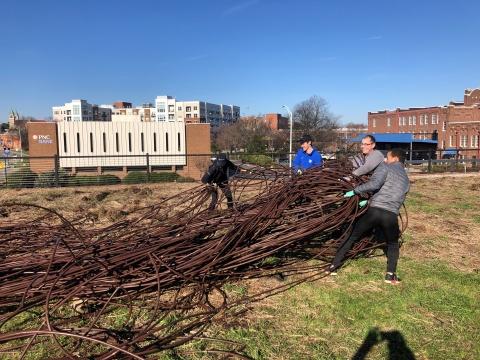 Last weekend, over 30 volunteers gathered at the Morris Street parking deck in downtown Durham to launch the first phase of the Bull City Community Garden project. Spearheaded by the Division of Community Health in the Department of Family Medicine & Community Health and Duke University's Office of Sustainability, the Bull City Community Garden will provide produce to Durham's population of at-risk seniors who do not have access to fresh and healthy foods.
Liliana Marin, program manager of the Division of Community Health's Benefits Enrollment Center (BEC), developed the idea for the Bull City Community Garden after noticing an abandoned green space on top of the parking deck in early 2019. Because of her work to connect seniors with benefits and resources to reduce financial hardships and improve their health, Marin saw potential for the space, which was then filled with weeds and dry bushes.
"Looking at the space, I had a vision for a garden blooming with fresh herbs, vegetables, and fruits that would be able to provide at-risk senior citizens with a healthier, supplemental assistance option," Marin says. "I envisioned it growing into a diverse community hub with vegetable production for assisting at-risk seniors in Durham County."
She then connected with various partners, including Durham Mayor Steve Schewel, the General Services Department of the City of Durham and Rebecca Hoeffler, communications coordinator for Sustainable Duke, to help make her vision a reality. Now after over a year of planning, the Bull City Community Garden is beginning to take shape.
Over the next few weeks, members of the Duke and Durham community will continue clean-up efforts, prepare the soil and begin planting seeds to grow fresh fruits, herbs and vegetables. The produce will then be harvested and delivered to local food pantries that prepare and deliver nutritional boxes to senior apartment buildings across Durham.
"We expect to have our first harvest around late spring or early summer," Marin says. "We're excited to get fresh produce into the hands of the seniors in our community, increase their consumption of fresh produce and give them a chance to experience a healthier lifestyle."
In addition to fighting senior food insecurity, the Bull City Community Garden will provide Duke students and employees, as well as other Durham citizens, with a chance to build community and enjoy the emotional, mental and physical benefits of gardening while helping solve a real-world issue.
Partners for this project include the City of Durham, Duke Campus Farm, Duke's Pratt School of Engineering, Feed My Sheep of Durham food pantry, Healthy Duke, Inter-Faith Food Shuttle, Sarah P. Duke Gardens, Sustainable Duke and TROSA.
Follow the Bull City Community Garden on Facebook and Twitter to see the garden's progress and to learn more about volunteer opportunities.
---
Courtney Decker is a communications intern for the Department of Family Medicine & Community Health. She is a senior at UNC-Chapel Hill majoring in public relations.