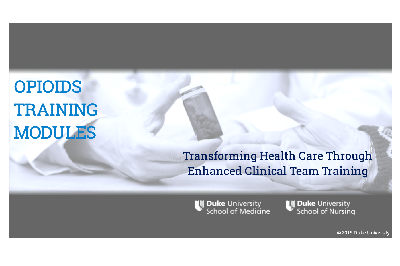 According to the Centers for Disease Control and Prevention (CDC), drug overdose deaths continue to increase in the United States and the majority of drug overdose deaths (more than six out of ten) involve an opioid. Ninety-one Americans die every day from an opioid overdose (www.cdc.gov). The State of North Carolina also has a high incidence of death due to drug overdose. Between 1999 and 2015, the number of medication and drug overdose deaths by intent was 1,498 and drug overdose deaths by prescription opioids during this same period of time was 738. Death rate by prescription opioids was higher than cocaine (293) and heroin (364) (N.C. State Center for Health Statistics, Vital Statistics-Deaths2, 1999-2015).
The CDC proposes that a multifaceted, collaborative public health and law enforcement approach is urgently needed to address this epidemic and response efforts should include implementation of CDC Guidelines for Prescribing Opioids for Chronic Pain which includes staff/provider education. The North Carolina Strategic Plan (2016) to Reduce Prescription Drug Abuse also highlights the education of prescribers and the increase of medically assisted treatment (MAT) as key strategies to achieve reduction of drug abuse.
As part of the HRSA-funded Transforming Health Care through Enhanced Clinical Team Training (THCECTT) grant project, Duke Health is engaging practitioners and students in dynamic online curricula to address the crisis and equip these students and community providers to safely prescribe opioids and diagnose and treat individuals with opioid use disorder.
The online curriculum consists of three interactive learning modules (including post-test assessment) which assist learners in recognizing opioid use disorder, understanding its epidemiology and risk factors, knowing how to take steps to reduce the risk of individuals developing opioid use disorder, and once diagnosed, referring for treatment to include MAT or abstinence-based therapy. The material is consistent with national standards developed and published by SAMHSA4.
This project is supported by the Health Resources and Services Administration (HRSA) of the U.S. Department of Health and Human Services (HHS) as part of an award totaling $2.3 million with 0 percentage financed with non-governmental sources. The contents are those of the author(s) and do not necessarily represent the official views of, nor an endorsement, by HRSA, HHS or the U.S. Government.
---
Accessing the Training Modules
If you are a member of the Duke community, the following links will take you to the registration screen for the selected courses, each of which are eligible for CME:
If you are not a member of the Duke community and are interested in CME, you can access the modules via the AHEC Connect system.