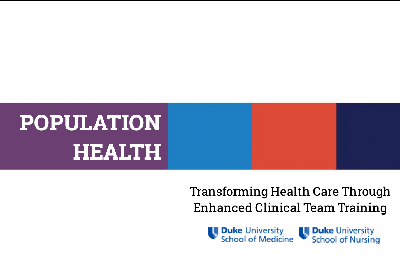 As part of the HRSA-funded Transforming Health Care through Enhanced Clinical Team Training (THCECTT) grant project, Duke Health is engaging practitioners and students in dynamic online curricula to better understand concepts related to Population Health, and apply Quality Improvement tools and strategies to address healthcare system challenges.
The online curriculum consists of interactive learning modules which assist learners in understanding key concepts through real-world examples and case scenarios. The material is consistent with national standards developed and published by IHI and aligned to the following objectives:
Population Health
Identify determinants of health;
Define populations, population health management and public health;
Distinguish subpopulations from within larger populations;
Discuss the role of public policy in health and a community health crisis;
Apply key steps of a population health model (assessment, intervention and evaluation) to both individuals and populations;
Utilize public data sources available to clinicians to address community health crises; and
Analyze the impact of a community health crisis on the workflow in a clinician's office
Introduction to Quality Improvement
Define quality improvement (QI);
Identify differences between quality improvement and research design;
Describe elements in the IHI Model for Improvement;
Create a SMART aim statement;
Define measures;
Use a modified FMEA to understand a process;
Construct a PDSA cycle;
Analyze a run chart;
and Identify QI resources/toolkits.
This project is supported by the Health Resources and Services Administration (HRSA) of the U.S. Department of Health and Human Services (HHS) as part of an award totaling $2.3 million with 0 percentage financed with non-governmental sources. The contents are those of the author(s) and do not necessarily represent the official views of, nor an endorsement, by HRSA, HHS or the U.S. Government.
---
Accessing the Training Modules
If you are a member of the Duke community, the following links will take you to the registration screen for the selected courses, each of which are eligible for CME: