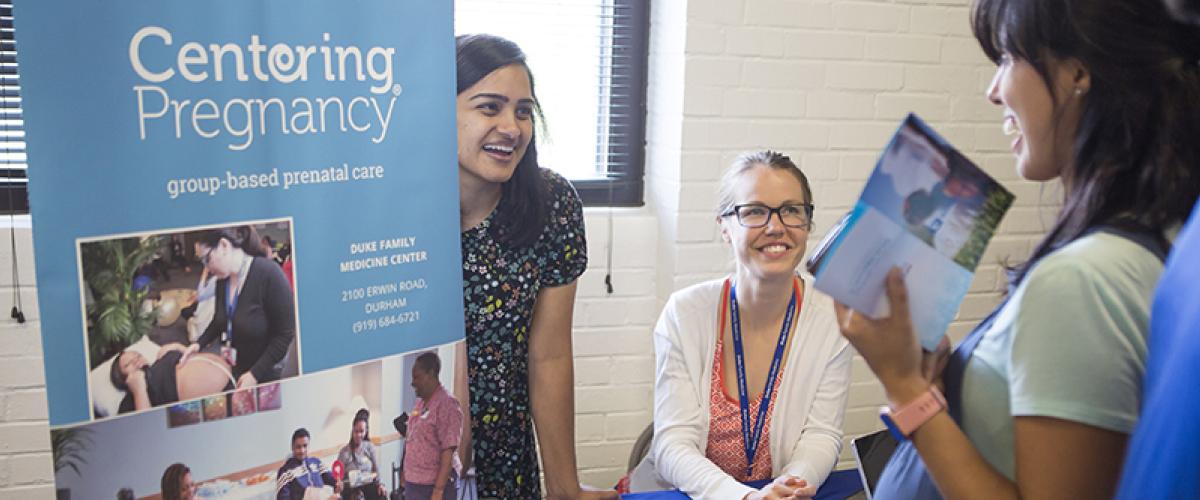 The Duke Family Medicine Residency Program trains physician leaders who, on a foundation of resilience and personal/professional fulfillment, provide top-quality clinical care to patients, partner with health care and community teams to meet the needs of populations, and serve as leaders and change agents in an ever-changing healthcare environment.
Our Clinical Training
The primary goal of our residency program is to create highly competent, empathic, and effective family medicine physicians who care for diverse patient populations in diverse clinical settings. We accomplish this goal by providing robust, well-organized, and pedagogically sound clinical and didactic education within world-class health care environments, including Duke University Hospital, Duke Regional Hospital, the Durham VA, and the Duke Family Medicine Center.
While we rely on specialist colleagues for some training opportunities, we provide the bulk of our residents' training within the arms of our Family Medicine Residency Program. This includes our Family Medicine Inpatient Service and Mother-Baby Service at Duke Regional Hospital; high volume outpatient training—including procedures, sports medicine, and CenteringPregnancy® group visits—at the Duke Family Medicine Clinic; and immersive population health training through our community partnerships. For specialty rotations such as emergency medicine, geriatrics, and the medical intensive care unit, we utilize top-notch clinical services at Duke's University and Regional Hospitals and the Durham VA.
Our Community Focus
While much of our training occurs within these great facilities, the focus of our training remains steadfastly focused on the local community. In fact, key facets of our residents' training are embedded within—and in collaboration with—the Durham community. These include a longitudinal, once weekly experience working within a community-based clinic; the requirement that residents complete a two-year, community-engaged scholarly project; our consistent support of community initiatives, such as mobile COVID-19 testing units and active support for the Black Lives Matter movement; and the direct support and education we receive from the department's Director of Health Equity. As such, we conceptualize our residency program as a bridge that connects Duke Health and all that it has to offer with a local community that may lack the ability to fully access it.
Our Learning Environment
Community is also central to the culture of our residency program: one that places authentic self-expression, belonging, and wholehearted engagement with learning medicine at the center of everything we do. Our training is rigorous and demanding, and we provide maximal support to residents in meeting the lofty goals we set before them. We do this by building and maintaining learning environments that are psychologically safe, allow for exploration, failure, and imperfection, and promote growth mindsets and emotional resilience. Instilled in our culture and environment is a deep commitment to social justice and racial equity. We go beyond recruiting diverse residents, faculty, and staff to instilling true inclusivity and belonging for all members of our residency program. Being inclusive, however, is still not enough and we have recently recommitted to being a program and department that is anti-racist and that actively surveils for—and addresses—forces that may undermine the sense of community and belonging for any of our members. 
How We Teach, Mentor, and Support Our Residents
In addition to maintaining optimal learning environments, we support the personal development of our residents from Day One. In a one-week orientation prior to intern year, we introduce residents to the residency program and clinical sites and the local community. Residents introduce themselves to the entire clinic staff through 10-minute "personal powerpoints" about who they are as people outside of medicine. Days later, new residents participate in a half-day workshop intended to promote group bonding during which the program director and chief residents guide discussions about expectations, fears, and standards of success entering residency. We cover topics such as imposter syndrome, shame and guilt, maintaining personal identity, and what it means to be "good enough." Participation in this workshop has a lasting effect on resident cohesion throughout subsequent years. In January of intern year, we do a one-week "re-orientation" during which residents participate in a second resilience workshop, receive obstetrics and procedural training to prepare them for the upcoming semester, and spend time together as a group. Resident support continues through our formal wellness program, overseen by our behavioralist, faculty wellness champion, and resident director of wellness. 
The primary goal of the program is to build and maintain a culture of wellness, belonging, and authentic engagement in the residency program, and the program acknowledges that wellness is an individually experienced, contextually influenced phenomenon. We do not believe that there is a right or single way to achieve it. 
We strive to accomplish this goal through formal means (e.g., protected wellness time each month, rounds with our behavioralist, and a curriculum addressing challenges inherent in learning medicine) and informal means (e.g., maintaining a comfortable, well-lit workroom for residents, providing food at residency events, and organizing social events in the local area). A weekend retreat is held annually for all residents and key faculty.  
In addition, the faculty advisor provides individual support throughout the three years of residency. Program leaders meet with residents on an ongoing basis. We support families by allowing up to 8 weeks of paid parental/family leave plus the option for a 4-week "care of the newborn" transitional elective that can primarily be done at home.  
Finally, we benefit greatly from the very high value that Duke GME at-large places on resident wellness and the many resources and initiatives that follow.  For example, all Duke residents have access to telehealth support for acute illnesses and reserved extended hours counseling or psychiatric services through Duke Personal Assistance Service
The bulk of our residency program didactics occur every Tuesday afternoon from 1:00 – 5:00 PM, with at least one hour dedicated monthly to resident wellness. Some of this time is a formalized group wellness experience with the residency behavioralist, while other times are less structured, embracing our belief as wellness as togetherness. During Tuesday didactics, we execute an 18-month core curriculum that allows residents to engage with key topics in family medicine at least once, often twice, during their three years. Topics are all highly relevant to the primary care physician, with the majority given by residency core faculty. In addition, Tuesday didactics includes a quarterly population health symposium, longitudinal behavioral health lecture series, patient safety event review, resident as teacher training, periodic simulation sessions and workshops (during non-COVID times), journal club, resident case presentations, and a monthly dialogue with the program leadership. 
In academic year 2021-2022, we will launch 50-minute, twice weekly clinic didactics during protected time at the beginning of the clinic day. Residents on outpatient family medicine rotations will attend these more informal sessions, which will include morning report-style case presentations, complex case reviews, faculty-led "chalk talks", outpatient FM journal club, practice management topics, and lectures from social work and clinical pharmacy. These sessions will be attended by residents and faculty. 
Residents on the Family Medicine Inpatient Service receive dedicated education from faculty attendings and participate in Internal Medicine noon report and departmental grand rounds.  
We recruit natural leaders, and we work hard to help them further develop into the advocates and change agents that our healthcare system and patients need. We provide all residents with both formal and informal leadership development and mentorship but perhaps more significant is the extent to which we help residents pursue their professional interests and passions. Our residents' interests are diverse, ranging from community activism, health equity, and social justice to academic medicine and clinical leadership to specific clinical interests such as obstetrics and sports medicine. What is constant: our consistent support for their growth in each of these areas. We have created curricular mechanisms, leveraged departmental resources (e.g. our divisions of research and community health), and tapped the wealth of talent at Duke to catalyze experiences that support residents' professional growth. 
We utilize a team-based approach to advising in which groups of three faculty members advise each individual class of residents. Residents are still assigned a primary advisor, but this individual changes each year as the resident progresses through the program. This enables our advisors to become experts in the rotations, challenges, and opportunities unique to each year of the program. At regular intervals, advisors meet with residents to review performance, evaluations, milestones, and progress through the program. The advisor serves as the resident's advocate and guide within the educational system, including assisting in the planning and arranging of electives and developing individualized educational plans to reach present and future goals. 
We believe that mentorship relationships are distinctly different than advising relationships in that the former are built between two individuals with shared interests, one of whom can offer guidance, support, and opportunities to the other. Having redesigned the advising program, we are in the early stages of building a formal mentorship program within the residency and will provide updates as available. 
Duke University Health System utilizes EPIC as the electronic health record as does Wake Med Pediatrics, where our residents also rotate. Residents will also gain experience on rotations at the Durham Veterans Affairs (VA) hospital with their electronic health record, CPRS. 
All procedures, milestones, and other program logistics are maintained in an electronic platform called MedHub. MedHub enables us to ensure that residents meet graduation requirements, develop requisite competencies, and can be credentialed upon graduation for procedures.