Our residents learn to be competent, compassionate, and skilled family physicians in multiple inpatient, outpatient and community settings. They complete required rotations and have ample elective time to graduate prepared to pursue the type of career and practice they desire. A sample three-year schedule is as follows: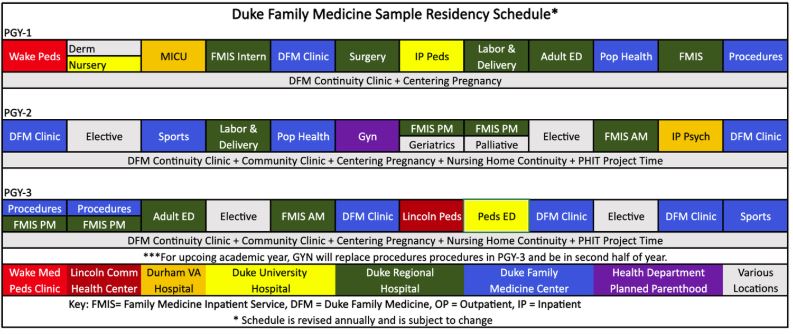 Rotations
We provide immersive outpatient training, and have structured the program for residents to complete at least 1,900 unique continuity clinic encounters (250 more than the ACGME minimum). Residents complete these visits in both the Duke Family Medicine Clinic and in a longitudinal, community-based site during the PGY2 and PGY3 years. Most of our patients are medically complex, experience a high burden of social determinants of health, and navigate inequitable societal structures as they try to achieve optimal health. Residents gain in-depth experience partnering with these patients and within challenging healthcare environments. 
Inpatient training is provided through the Duke Family Medicine Inpatient Service at Duke Regional Hospital. The teaching team consists of one intern paired with a senior resident, faculty, and student in caring for patients with inpatient conditions falling within the FM scope of practice. Our night float rotation provides residents with a full spectrum experience, as they manage and admit adult medicine inpatients, triage and manage laboring obstetrics patients, and take home call for the practice. In January 2022, residents will begin working on the Duke Family Medicine newborn service at Duke Regional Hospital. Additionally, our residents complete inpatient rotations in general surgery at Duke Regional Hospital, MICU and inpatient psychiatry at the Durham VA, and inpatient pediatrics at the Duke Children's Hospital, all of which are advanced learning environments. 
The geriatric rotation includes the Memory Disorders Clinic, among other opportunities run by the geriatrics division at Duke and the VA.
Our family medicine residents also provide continuity care for long-term residents at Pettigrew Rehabilitation Center in Durham. Starting in the second year, all residents are paired with at least one patient who they care for under the supervision our our family medicine geriatrics faculty.
With a growing number of pediatrics patients at the Duke Family Medicine Center, there are many opportunities to care for children of all ages in an outpatient setting. WakeMed Physicians Pediatrics clinic, a high-volume community health system in Raleigh, is the location for the outpatient pediatric rotation. Additionally, residents learn inpatient care of children at Duke Children's Hospital in the Full Term Newborn Nursery and the pediatric inpatient service.
Obstetrics training is completed at Duke Regional Hospital and includes both care of private, community patients as well as care of continuity patients managed by the Duke Family Medicine Clinic. We have structured the program to allow residents to complete at least 40 vaginal deliveries and 10 continuity deliveries. High-volume OB training is possible in our program.
Emergency Medicine is learned through rotations at Duke Regional Hospital and the Durham VA. 
All residents will have two months of dedicated procedure training. During this time, they will be the procedure resident at Duke Regional Emergency Department, spend time in the benign anorectal clinic gaining expertise on common anorectal procedures, and work at the Duke Family Medicine dermatology and gynecology procedures clinics.
Additionally, a third year gynecology rotation allows for an immersive experience at the Durham County Health Department and local Planned Parenthood locations. Residents have the option to gain experience in providing medical or surgical abortion, or can instead focus on long-acting reversible contraception like IUD and Nexplanon placement and removal.
During the two months of dedicated sports medicine rotations, residents will gain experience using musculoskeletal ultrasound for joint evaluation and injections at Duke Family Medicine as well as Duke Sports Sciences Institute.
Elective Rotations
Electives rotations include a variety of experiences at Duke clinics, as well as state, national and international electives.
Popular elective rotations within Duke
Cardiology
Adolescent health
Endocrinology
State and national rotations
International electives
Cacha Medical Spanish Institute, Ecuador
Residencia de Medicina Familiar y General, Rosario in Argentina
Family Medicine Residency. American University of Beirut
Centre for Public Health, Medical University of Vienna, Austria
International travel is on hold currently due to Covid-19.
Residents may apply to rotate at any Duke Global Health Institute participating site.
Population Health Improvement through Teamwork
Population Health Improvement through Teamwork (PHIT) is a multi-pronged curriculum designed to teach Duke Family Medicine residents the competencies needed to collaborate with and lead population health improvement efforts that can include, but also go beyond, the management of patients in their clinics. The curriculum includes workshops, quality improvement activities, community health experiences, practice with new models of care, and a longitudinal project; the latter requires that residents use the tools of analysis and community engagement to further a community-based population health improvement initiative.
Together, the curricular components provide residents with experiences, skills, and knowledge in the four competency domains of population health: public health, community engagement, critical thinking, and teamwork/leadership. Family medicine faculty and students from the Duke University School of Medicine Primary Care Leadership Track, and others participate in portions of the curriculum alongside the residents.
Research Residency Pathway
The CARiNG-StARR (Creating Alzheimer's Disease and Related Dementias Researchers for the Next Generation – Stimulating Access to Research in Residency) Pathway supports protected time for residents to conduct research on issues related to Alzheimer's disease and related dementias (ADRD). These opportunities are supported by an active R38 StARR award to Duke University School of Medicine from NIA. Priority is given to residents from the Departments of Family Medicine & Community Health, Neurology, and Psychiatry & Behavioral Sciences.